About South Bay Vocational Center
Sixty-four years ago, there were very few opportunities for people with developmental disabilities.  In reality, there were only three options; special schools, in-home care and the state institutions. It was because of these concerns that three families from the San Pedro area, in 1952, met and took out a newspaper ad to create a support group. Over 30 families responded. From this core of dedicated parents grew the Harbor Area Exceptional Children's Foundation (HAECF). Upon electing the first Board of Directors, the HAECF school opened on September 4, 1953, at the Toberman Settlement House in San Pedro. Tuition was based on ability to pay and a teacher was hired to conduct half-day classes. Enrollment was limited to 25 students. Most activities were conducted by volunteers from the community and materials for the program were donated by civic and service organization in the area.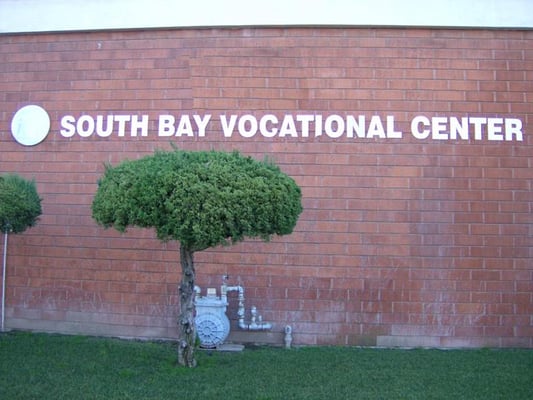 In September 1957, the school found its first permanent home at the Harbor Department on the San Pedro waterfront. The local unions and community rallied to refurbish the building. The school was honored by President Dwight D. Eisenhower as one of the few schools in the United States teaching disabled children the necessary skills to mainstream into the community. In 1960, the school received state licensing from the Mental Hygiene Department (Department of Rehabilitation). Prior to that, the Foundation received no financial aid or support from any state or federal agency. It relied upon the support of businesses and individuals in the surrounding communities to fund the operation of the programs.
In May 1970, because the facility at the Harbor Department was falling apart, the school was evicted. For two years the Harbor Foundation used abandoned army barracks at Fort Mac Arthur until a building fund could be established. In 1972, a Gas Company building on 8th and Grand in San Pedro was vacated and the building fund was used to partially purchase the building. At this time, many of the original students were entering their 20's and schooling was no longer appropriate. The Work Activity Center became the Foundation's first program expansion which offered vocational opportunities.
Moreover, the community was becoming aware of "mainstreaming". Many special education programs and special services had become available. Terms began to evolve:   "Handicapped" became "Disabled" or "Challenged". Congress passed a Disabled Bill of Rights in 1976. By 1985, much had changed. First, a name change: Harbor Foundation for the Retarded. Then another program expansion: The Day Training Activity Center and an off-site Pre-School in Palos Verdes for young children with special needs.
In 1987, all adult programs were moved to the location at 1526 West 240th Street in Harbor City. In 1988, the Foundation began its first job placement program, Supported Employment.  In 1990, Congress passed the "Americans with Disabilities Act", an affirmation of the rights of all persons with disabilities. In 1993, the preschool closed due to lack of enrollment.  In 1994, the Day Training Activity Center closed due to lack of funds.
In 1996, the name had changed to South Bay Vocational Center. By 1997, South Bay Vocational Center was providing services for 143 developmentally disabled individuals in the Work Activity Center and 5 developmentally disabled individuals in the Supported Employment Program.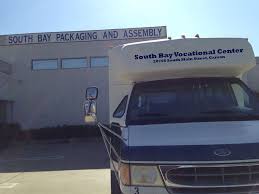 In 1998, South Bay Vocational Center was authorized by the Department of Rehabilitation to provide personal and social services. Also that year, South Bay Vocational Center began its Personal and Social Adjustment Program. Throughout the year 36 developmentally disabled individuals participated in this program.
In 2001, South Bay Vocational Center was providing services to 126 individuals in the Work Activity Center and 67 individuals in the Supported Employment Program. By February 2002, South Bay Vocational Center added a new program called the Social Activity Program.
In December 2013, South Bay Vocational Center started a community outreach program.  This program was developed to distribute food to low income families as well as the individuals we serve.
In 2015, South Bay Vocational Center expanded by relocating its facility in 4 different locations.  The current address for South Bay Vocational Center is 21915 Figueroa Street, Carson, Ca 90745, 21917 Figueroa Street, Carson, Ca 90745, 20706 Main Street, Carson, Ca 90745, and 24328 South Vermont Avenue, Suite #217, Harbor City, Ca 90710
Today, each program is nationally accredited by CARF (Commission on Accreditation of Rehabilitation Facilities) and upholds the standards set by state regulatory and funding agencies. From a schoolhouse in 1952 to a progressive habilitation facility, South Bay Vocational Center continues to provide programs and services to improve the quality of life for consumers and increase their chances to succeed in a highly competitive world.